Jenn's Corner @ Rusty's Snakeskin
|
home




Artistic Gatherings

Skip to Galleries
Jennifer Lee Lopez
Objective

To begin my career in the fashion industry while also finishing my college education.

Education

1996-1998 Eisenhower High School Rialto, CA




1998- June 14, 2000 Etiwanda High School Etiwanda, CA

High School Diploma




2000-2001 Chaffey Community College Rancho Cucamonga, CA

Courses taken:

Introduction to the Fashion Industry

Clothing Construction

Beginning and Advanced Fashion Illustration

Textiles

Elements of Design

Algebra II




2002 - Present FIDM Los Angeles, CA

Courses taken or in progress:

3-D Design (dress form draping)

Flat Sketching

Female, Male, and Child Figure Sketching

History of Fashion

Beginning and Intermediate Pattern Drafting

Marking and Grading

Computer Aided Design

Product Development/Merchandising Planning

Design & Manufacturing

Interests and activities

Drawing, writing, sewing, reading. Maintaining web site at www.rustyssnakeskin.com. Custom costume commissions accepted.

Skills

PC and MAC literate, Microsoft Office inc. Excel, Word, FrontPage, Publisher. Some Adobe Illustrator. PageMaker. QuickBooks Pro. Type 70+ wpm. Has knowledge of Bernina, Janome, and Singer sewing machines, sergers. Pattern making.




A/P, A/R, Inventory, Certified Payroll, OCIP Compliance, contracting submittals, close out documents, etc.

References

Empire Floor Covering, Inc. June 18, 2000 to Present

9320 7th Street, Ste. B, Rancho Cucamonga, CA 91730 Phone (909)948-0089 Fax (909)945-2409


Costume Commissions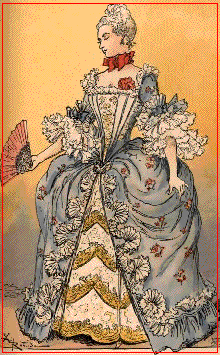 I can design custom costumes to fit your needs. Custom costuming will require a consultation fee in advance. Custom costumes include:
Period costumes
Character costumes...great for Cosplayers who can't sew!
Stage Costumes
This is basically when I design a one-of-a-kind costume just for you, sew it up in your exact size, and send it to you. During cosultation, I will run ideas by you, as well as fabric and trimming ideas. After consultation, I will give or send you the actual design. If you approve, we will sew it up!
Yes, I will ship out of state, but no, I do not accept personal checks from out of state. Please send a cashier's check. Don't whine or get mad. They aren't hard to obtain, especially if you buy groceries from a grocery store anyway...you can get one while you're there. This also pertains to North California.
If you have a pattern you wish for me to sew for you, I will require you to ship me the pattern with your size information (I will not size you, so you need to do this by yourself. It is not hard...just read the back of the pattern envelope). You can also send me the fabric you wish to use...but if you wish for me to pick it out, the fabric will come from your expense.
I will not ship you the costume until it is paid for. Fair and square, people.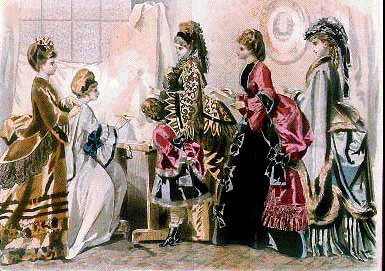 I do not provide: masks, weapons or props, shoes (unless they are sewn from the pattern), makeup, or wigs. I will only provide costume jewelry if it is part of the costume or it is part of a custom costume.
You must order the costume at least four weeks in advance. For multiple orders, I suggest ordering well ahead of that...say, two to three months, depending on how many costumes you want me to make. For Halloween, I would suggest ordering well ahead of that time, since as soon as I'm booked I will not accept any more orders...! So that means the time you'll get your costume is: 4 weeks (for me to make it) + shipping time (at least ten days if you don't overnight it). If you absolutely need a costume in a hurry, the latest I will accept orders is 2 weeks, and I'll overnight it. Beware! This is gonna cost ya, and I'm not going to guarentee hurried orders.
I will only accept returns for repairs if: a seam pops, something isn't finished, something falls off, or if it needs altering. I will fix it and return it to you. I will not accept returns because you: just don't like it, changed your mind, someone at the shipping company screwed up, or because you went and spilled something on it or something else beyond my control. The pictures dipict the final outcome of the costume accurately, so if you don't like it now, it won't change, so don't order!
I am not responsible for shipping errors. Make sure all the info you give me is accurate.
Galleries
Although I have no degree in art or illustration, I have been drawing since I could put a pencil in my hand. I have extended my horizons to include sculptures, paintings, ink drawing, and other forms of art. Please select a gallery to view:
Deviant Art - View watercolor paintings, mosaics, pen renderings, and current fashion portfolio.
Elfwood - View art pertaining to my fictions at
Fanfiction.net
. Science fiction art.
About.com - View my fashion pieces for viewing on About.com.